They say there's no such thing as bad pizza. That's being very generous to some of the less-than-satisfying vegan pizzas we've tried before the dairy-free cheese revolution. Vegan pizza has significantly improved throughout the years, and it's also becoming far more common. It's not quite at the tipping point of vegan burgers (national chains are slow to adopt vegan cheese), but many regional and independent pizzerias have permanently added vegan cheese and plant-based meats to their menus. The frozen vegan pizza category is strong as well, and there's always the make-at-home option. If you're not craving plant-based pizza now, you certainly will by the end of this article. Here's where to find the best vegan pizza plus seven recipes to make your own. 
The Pizza Plant
What is vegan pizza?
Vegan pizza is as creative, tempting, and expansive as animal-based pizzas—it just happens to omit all animal ingredients. That is not to say that vegan pizza is cheeseless pizza. While a solid slice made with high-quality produce and a stellar crust or a simple marinara pie can be wonderful, cheese is certainly an element of many vegan pizzas. The only difference is that plant-based pizza features dairy-free cheese of which there is a wide swath of options. 
In regards to nutrition, vegan pizza is still pizza. In a way, it is "healthier" by omitting the animal products and thus omitting trans fats, hormones, and cholesterol. But calorically speaking, most vegan pizza is still made of bread and vegan cheese which tends to be higher in fat. By all means enjoy, but perhaps not the whole pie on a regular basis. 
Miyoko's Creamery
Best vegan cheese for pizza 
The right vegan cheese can convince us to take a second slice. Three varieties work well on pizza: vegan parmesan, creamy nut-based cheese, and truly melty (not rubbery) cheese. The latter is the most difficult to master. There's a fine line between gooey, melty goodness and tacky, bland, and oily. Miyoko's Creamery and NUMU both make reliable vegan mozzarellas that stand up to the heat. Specifically, Miyoko's new pourable mozzarella works wonders for homemade pies whereas NUMU can be found in a variety of pizzerias in the greater New York region as well as at Whole Foods pizza stations nationwide. Many restaurants also carry either Daiya, Parmela Creamery, or Follow Your Heart cheese to obtain that stretchy element. 
Creamy, spreadable cheeses such as nut-based mozzarella and ricotta are also excellent vegan pizza toppings. With just a handful of ingredients and a high-speed blender, you can easily make these nut cheeses at home. We also love it when a restaurant makes its own vegan cheese. It's typically of a rich, indulgent, nut-based variety, generously dolloped all over an artisan crust. 
Don't forget the parm. Whether store-bought or homemade, a finishing of vegan parmesan adds an umami flavor to pull everything together. Make it in less than five minutes by blitzing cashews, nutritional yeast, and a pinch each of salt, black pepper, and garlic powder until you achieve a sand-like texture. Sometimes, all you need is a sprinkle of this cheesy pixie dust and you're set—no other cheese required.  
Double Zero
Where to find vegan pizza
These days, you can find vegan pizza just about anywhere you can find non-vegan pizza. It's available in regional chain restaurants, independent eateries, grocery store hot bars, and the freezer aisle. Even when a restaurant does not explicitly offer a plant-based pie on the menu, you can usually order one by holding the meat and cheese and amping up the vegetables. Most pizza dough is naturally vegan (with the exception of Papa John's, which for some reason contains milk), making it easy to build your own when dining out. 
Popular chains that carry vegan cheese and/or plant-based meats include Fresh Brothers, Blaze Pizza, Mellow Mushroom, MOD, Pieology, &Pizza, Picazzo's, and Brixx Wood Fired Pizza, among countless others. If it's a build-your-own concept, there's a good chance you'll find something satisfying, even if it doesn't carry dairy-free cheese or vegan meat. 
If you're strolling down the frozen aisle looking for something quick to have on-hand, scan the shelves for The Pizza Plant, Daiya, Blackbird, Wholly Veggie, or check out this best-of list. 
For vegan pizza at home, we've sourced a handful of foolproof recipes below. If you plan on making pizza often, try a vegan pizza cookbook such as Purezza Vegan Pizza. 
Pura Vita Redondo
Vegan pizza toppings
With the exception of salty silver fish (anchovies), anything you put on an omnivore pizza can be transformed into a vegan pizza. After all, just because we prefer plant-based doesn't mean we lose those cravings for animal-based foods. Stretchy cheese, spicy pepperoni, hearty sausage—those tastes don't go away overnight, and for many, they're pizza essentials. When ordering from an omnivore chain, you'll most likely find Impossible, Beyond, or Field Roast for your pepperoni or sausage options. However, Abbot's Butcher Chick'n and Italian "Sausage" are also becoming popular among independent pizzerias. 
Beyond the basics of meat and cheese, the combinations of toppings are limitless. A few things to note when ordering out: marinara sauce is typically vegan, but ask just in case, as a few companies add dairy to their recipe. Also, pesto and cream-based sauces are often dairy-laden with the exception of all plant-based pizza spots. We love the innovation coming out of these restaurants and food trucks. We've seen vegan mac and cheese-topped pizzas, buffalo chicken pizzas, potato pizzas, and divinely fresh produce piled on a pizza. From dessert pizzas to salad pizzas to your more traditional pies, very few things don't belong as a topping. 
Sarah McLaughlin
How to make vegan pizza + 7 vegan pizza recipes
When making vegan pizza at home, it all starts with the dough. The simple route is to opt for a store-bought option. Trader Joe's makes three excellent refrigerated pizza doughs in plain, wheat, and Garlic & Herb. All are vegan. You could also ask your local pizzeria to sell you dough. Ask, and you often will receive. If you do purchase your dough, allow it to rise for at least 30 minutes prior to saucing and topping it. This step makes a significant difference in the crust texture. For those looking for a bit more hands-on work (and have a few more hours of time on their hand), making your own dough can be thoroughly rewarding. Unlike pie crust, it's fairly easy to master a decent dough. It may not be pizzaiolo-worthy, but it will certainly suffice. The rest is fairly self-explanatory. The only other tip is to not go crazy with toppings. Sometimes, less is more. 
Need some inspiration? Check out these seven vegan pizza recipes to make the best pizza from the comfort of your kitchen.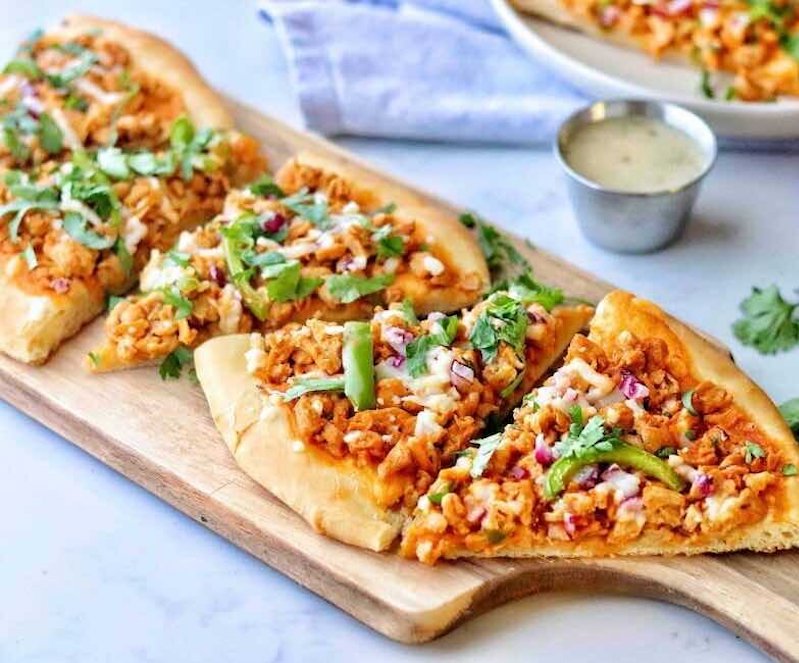 Plant Powered Parents
1 Vegan Mushroom and Truffled Zucchini Pizza
No vegan cheese is needed for this sophisticated pie. Tender zucchini ribbons are swirled amongst meaty portobello mushrooms to let the produce shine. The whole thing is finished with a generous drizzle of truffle oil and spicy chili flakes for a flavor profile that begs for a second slice. 
Get the recipe
2 Easy, Cheesy French Bread Pizza
For some, there will always be an irreplaceable taste of nostalgia for a certain brand of microwavable French bread pizzas, but it doesn't take much more effort to make it from scratch. When you don't want to mess with dough—even the store-bought kind—French bread is the way to go.  
Get the recipe
3 Vegan Deep Dish Pizza
A knife and fork are required to tackle a slice of this hefty pie. This particular recipe doesn't call for many toppings, but don't let that hold you back. A large handful of meaty vegan sausage, fresh basil, sliced bell peppers, or bright red onions would do well atop this sturdy crust. 
Get the recipe
4 Roasted Potato and Zucchini Pizza
A cracker-thin crust highlights the delicate textures and flavors of ribboned zucchini and thinly sliced roasted potatoes. Topped with peppery arugula and fresh tomatoes, this vegan pizza won't weigh you down. 
Get the recipe
5 Vegan Mac and Cheese Pizza with Potato Chip Topping
If deep dish isn't carb-heavy enough for you, this indulgent pie should tie you over. The mac and cheese pizza trend caught on a few years ago, and while it first seemed like a food stunt, many were hooked. Reserve it for special occasions, like the Super Bowl. 
Get the recipe
6 Grilled Vegetable Pizza
Vegan burgers and hot dogs aren't the only grilling foods—when the sun's out, pizza has a place on the barbecue. Each element is infused with that flavorful char—from the veggies to the pizza crust itself. Just be sure to read the recipe thoroughly as you don't want your pie to slip through the cracks. 
Get the recipe
7 Vegan Pesto Pizza
Marinara isn't the only sauce for pizza. This delightfully green pie has a nutty, herby flavor profile that needs few embellishments. A few sundried tomatoes and a scattering of plant-based chicken would work marvelously atop a blanket of bright and savory pesto. 
Get the recipe
For more on vegan pizza, read:
Vegan Chocolate Chip Peanut Butter Cookie Pizza
Have You Tried the New Dairy-Free Cheese on Whole Foods' Pizza?
Trader Joe's Just Launched a Vegan Meat-Lover's Pizza